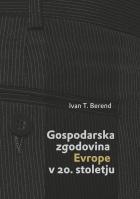 Title:
Author:
Other authors:
Year:
Keywords:
Language(s):
Description
The book of Ivan T. Berend is an exemplary work on the history of the turbulent twentieth century through a cross-section of economic changes. Berend set the book in an explicitly problem-centered and comparative manner. The six chapters are organized with respect to the predominant ideological and economic development models: the liberal economic model until the First World War, conceptual quests in the period between the two wars, the command economy model, the central planning economy model, the model of mixed economy in combination with welfare state and finally the globalization model with a tendency to reintroduce liberalization. The author assesses these historical development models from the perspective of a long-term quality of the economic development and achieved living standard of the population throughout the entire century, including regional variations. In doing so, he is convincing by successfully synthesizing a multitude of historical and economical processes and then breaking them down by industries and regions, as well as with revealing examples of successes or failures experienced by some of the most important companies, businessmen and projects.
In conclusion, the key to understanding our times lies precisely in the dynamics and intensity of the economic and social modernization on the European continent throughout the twentieth century.
Table of content
UVOD
PRVO POGLAVJE
Evropski sistem laissez-faire in njegov vpliv pred prvo svetovno vojno 
Vzpon Britanije in sistem laissez-faire 
Vzpon modernih sektorjev 
Brown Boveri Company 
Pariški metro 
Položaj Evrope v svetu 
Naraščajoče neskladje v Evropi 
Aspirin 
Začetek skandinavskega dohitevanja 
Zaostanek južne in vzhodne periferije 
Tungsram 
Družina Agnelli 
Izziv globaliziranega laissez-faire 
DRUGO POGLAVJE
Zaton sistema laissez-faire in vzpon sistema reguliranega trga 
John Maynard Keynes
Prelomna točka: vojno gospodarstvo, 1914–18, povojni kaos in agonija sistema laissez-faire 
Neuspeli poskusi vrnitve v »normalnost«
Konec sistema laissez-faire in skrajno državno reguliranje v času velike gospodarske krize 
Teorija reguliranega trga 
Vojno gospodarstvo, 1939–45 
Vpliv ekonomije reguliranega trga: evropski gospodarski učinek 
KLM 
Oslabljena vloga Evrope v svetu 
TRETJE POGLAVJE
Ekonomski dirigizem in avtoritarno-fašistični režimi 
Izvor in značilnosti ekonomskega dirigizma 
Delo in programi države 
Avtocesta 
Samozadostnost, načrtovanje in populistični socialni sistem 
Hjalmar Schacht 
Volkswagen 
Radar in balistične rakete 
Diktirana regijska ekonomska integracija 
Gospodarski rezultati 
ČETRTO POGLAVJE
Sistem centralnoplanskega gospodarstva 
Zapuščina teorije marksizma, Lenin in boljševiški program 
Prisilna industrializacija in centralno planiranje: »socializem v eni državi« 
Dneprostroj 
Od izoliranega sovjetskega sistema do sovjetskega bloka 
Kanal Donava–Črno morje 
Značilnosti centralnoplanskega gospodarskega sistema 
Zavarovanje in poskusi uzakonjenja režima 
Regionalni integracijski sistemi planskega gospodarstva 
Cilj in bilanca stanja centralnoplanskega gospodarstva 
Nagla rast in industrializacija – utrjevanje zaostalosti 
Neuspeli reformni poskusi 
Kriza in padec 
PETO POGLAVJE
Mešano gospodarstvo in socialna država v združeni Zahodni Evropi po drugi svetovni vojni 
Povojni mednarodni ukrepi 
Ekonomsko povezovanje in vzpon Evropske unije 
Jean Monnet 
Evropredor 
Pojav socialnega partnerstva in mešano gospodarstvo 
Planiranje v mešanem gospodarstvu 
Vzpon socialne države 
Sir William Beveridge 
Izobraževalna revolucija 
Gospodarska rast in strukturne spremembe 
Marks and Spencer 
ŠESTO POGLAVJE
Globalizacija: vrnitev k ekonomiji laissez-faire? 
Globalizacija in njene značilnosti 
Svetovni splet 
Globalizacija ideologije in sistema laissez-faire 
Nokia 
Benetton 
Vpliv globalizacije na Evropo 
Izzivi mešanega gospodarstva in socialne države 
Globalizacija in neenakost 
Povečana skrb za okolje 
Evropa: rastoča gospodarska supersila 
BIBLIOGRAFIJA
Publishing Houses
Modrijan založba • Založba ZRC
ISBN
978-961-254-443-0 (ZRC SAZU)
978-961-241-743-7 (Modrijan)
Specifications
hardback • 17 × 24 cm • 360 pages
Price
39,00 EUR (Regular)
37,00 EUR (Club)